Lie and a Chameleon JUGEM: New Album Out Now
STOP! J-rock revolutionaries Lie and a Chameleon have let loose a brilliant new track from their album upcoming JUGEM early. Entitled 'STOP!', the track is available to download / stream now ahead of the album's digital release on 8 April, shortly followed by the international CD release on 10 April from JPU Records.
The band's first major single, anime anthem 'Mononoke In The Fiction' (In/Spectre's opening theme) is also included on the album and is available early, along with B-side 'binary' and their fantastic opening from the BLEACH Brave Souls mobile game '0'.
JUGEM's physical release from JPU Records also features a 20-page booklet with lyrics translated into English by vocalist Cham(.△) herself. Romaji transliterations and the original Japanese lyrics are also included.



Lie and a Chameleon (known as 嘘とカメレオン / Uso to Kamereon in Japan, but often shortened to "Usokame") were born in Tokyo and grew up on YouTube. Their first music video 'Saredo Kijutsushi wa Sai o Furu' ("However the Illusionist Shake the Dice") has had almost seven million views and saw the band become a hot topic on Japanese social media, not least because of vocalist Cham(.△)'s bewitching manner or guitarist Sosuke's energetic dance moves. The music video's visionary director Takahiro Tsuboi returns for the video to 'Mononoke In the Fiction'.
---
Lie and a Chameleon – JUGEM Tracklist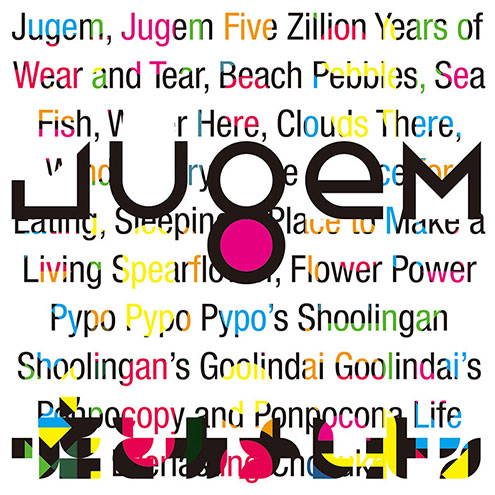 01. Goodbye to Walpole
02. 0
03. binary
04. gimmick destruction
05.『 』(No title)
06. Time Lapse
07. second hand
08. STOP!
09. Room 102 neighbour
10. Little Journey
11. Mononoke In The Fiction
12. BIG FISH
---
Lie and a Chameleon is:
Cham(.△) – Vocals
Likes: Butterflies, reading, painting, Sangokushi, Michael Jackson, walking

Yuta Sugeno – Guitar
Likes: Sleep
Sosuke Watanabe – Guitar
Likes: Guns, special effects, sushi
 Asahi Shibue – Bass
Likes: Godzilla, Ultraman, special effects, idol, meat, sleep
Takaumi Aoyama – Drums
Likes: Video game playthrough videos, manga
---
---