SCANDAL Create the Magic Planned for World Tour in Special Livestream & Announce 15th Anniversary Show!
SCANDAL celebrated their 14th anniversary today, 21 August 2020, with a special livestream entitled SCANDAL WORLD TOUR 2020 'Kiss from the darkness'. Following the live performance the band announced that they will be holding a solo show at OSAKA-JO HALL on 21 August 2021 to mark SCANDAL's 15th anniversary.
For those that missed the livestream, or want to relive the magic, it is available to watch on demand for a 48-hour period commencing 22 August from 11am BST by visiting this link: https://livefrom.events/scandal/
SCANDAL released latest album Kiss from the darkness from their own label "her" (in partnership with JPU Records outside of Japan) in February and had planned SCANDAL WORLD TOUR 2020 'Kiss from the darkness' to take place between March and September. Unfortunately many dates had to be rescheduled, including the overseas dates. This livestream recreates what was planned for the tour, including setlist, outfits, lighting and visuals that would have been used, and was broadcast in Japan as well as 52 other countries.
The livestream began with the opening movie featuring artwork from the Kiss from the darkness and SCANDAL's members appearing on stage to a flood of comments expressing delight as opening song "Ceramic Blue" starts. This was followed by fellow album track and recent single "Saishuheiki Kimi" and then international hit "Shunkan Sentimental". After that, several more songs were delivered, including "Yoake no Ryuseigun", "NEON TOWN ESCAPE" and other songs that capture 14-years of SCANDAL.
Halfway through the set SCANDAL switched into an acoustic set, performing a relaxed version of "Departure", as well as "Laundry Laundry" where TOMOMI took control of vocals. After that, "Chiisana Honoo" began the second half of the set, followed by recent up-tempo tracks "Masterpiece", "A.M.D.K.J." and "Take me out" before Kiss from the darkness' closing song "Tsuki" brings the performance to an end.
Latest tracks "Living in the city" and "SPICE", released as exclusive digital singles in June and July, were then sung as the encore for the the two-hour performance.
After the performance the screen switched to show a new announcement video: SCANDAL 15th ANNIVERSARY LIVE "INVITATION" at OSAKA-JO HALL on 21 August 2021. It will be the first time in seven years that SCANDAL will have performed live in the deeply memorable venue for the band, who began by performing in the streets nearby. Ticket info and activities around the 15th anniversary will be announced at a later date.
*Photo above taken by Takeshi Yao.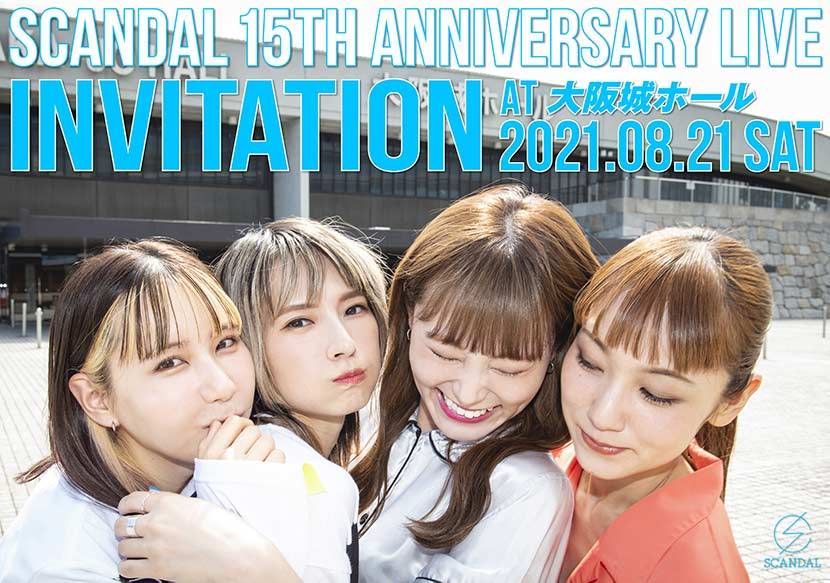 SCANDAL WORLD TOUR 2020 Setlist
The setlist for the livestream can be listened to on Spotify, Apple Music, Amazon Music and YouTube Music and includes:
1. Ceramic Blue
2. Saishuheiki Kimi
3. Shunkan Sentimental
4. Yoake no Ryuseigun
5. Kinenbi
6. NEON TOWN ESCAPE
7. Kagen no Tsuki
8. Depature
9. Laundry Laundry
10. Chiisana Honoo
11. Fuzzy
12. FREEDOM FIGHTERS
13. Tonight
14. Masterpiece
15. A.M.D.K.J.
16. Take me out
17. Flashback No.5
18. SCANDAL BABY
19. Tsuki
20. Living in the city
21. SPICE
---
HARUNA Takes Over the JPU RECORDS PLAYLIST:


---
Recent International SCANDAL Releases: (All)


---