FEMM Return with New Music Video and EP '404 Not Found'
As a girls' anthem with a darkly humorous message, mannequin rap duo FEMM's acclaimed song 'Fxxk Boyz Get Money' found an audience overseas. It quickly spread among teens and influencers in the United States, Europe, South America and Asia. Before long, FEMM fans – known as "agents" – were everywhere around the world. FEMM's debut album Femm-Isation brought Japanese female rap to a whole new audience. It even made the Top 10 of Billboard's World Albums chart in the US.
Earlier this week it was announced that FEMM's mannequin units had received firmware update FEMM2.0. This allowed them to achieve greater movement than before. It even granted the mannequins convincing, humanlike levels of emotional expression. Now, the newly upgraded FEMM return with a new music video. It's from double A-side single 'Level Up' / 'Summer Dream' (FEMM + Duke of Harajuku). It's in partnership with rising independent label and longtime FEMM cohorts tokyovitamin.
In addition, the music video for 'Level Up feat. Duke of Harajuku' has been released. It marks the beginning of Chapter 2 in FEMM's story.

The video is a remarkable work of cyberpunk visual world-building. It shows FEMM undergoing the firmware update to version 2.0. The world's air is polluted, and the overly vivid colours feed into a growing sense of anxiety. The video was directed by Yuki Tsujimoto. His work is known for its eye-catching use of colour and edgy editing. The styling was handled by the members of FEMM themselves.
On 20 November, 'Level Up feat. Duke of Harajuku' will be included on a brand-new six-song EP titled 404 Not Found. The title will be familiar to fans who encountered the error message on FEMM's official website recently. It caused FEMM agents around the world to worry about the duo's future. In fact, it was a teaser for the new EP the whole time.
FEMM's members say they chose the title 404 Not Found to suggest "brand-new music that doesn't exist (yet), no matter how hard you search for it".
The EP offers radical rap styles over fierce industrial tracks. It pulls in elements of 'dark pop', a style that combines musicality and message, and is now sweeping the world's music scene. Rather than simply riding this trend, FEMM draw elements into their own sound to offer a new musical experience and a rich seam of emotion.
404 Not Found includes production by DaBaby and Lil Uzi Vert collaborator Star Boy. As well as female Japanese track-makers ANJULIECAT a.k.a. YUA and Diana Chiaki. They were approached directly by the members of FEMM as fans of their work.
Other talented producers on the EP include Danny L Harle, a key member of London-based next-generation label PC Music who has produced for the likes of Charli XCX; Japanese bass music scene players HABANERO POSSE; Japanese hip-hop linchpin KM; and Radical Hardcore Clique, pioneers of the Japalanta genre that blends traditional Japanese music and trap.
The cover art was designed by London-based illustrator Max Prentis. It depicts a lonely AI character that wanders the internet in the distant future. Long after the extinction of humankind, it attempts to access websites that will never be updated, displaying only the message "404 Not Found".
With an unpredictable sound that overheats quietly, FEMM's latest music melds the boundaries between human and machine. And borders and languages, to deliver "a world that this world has never seen".
---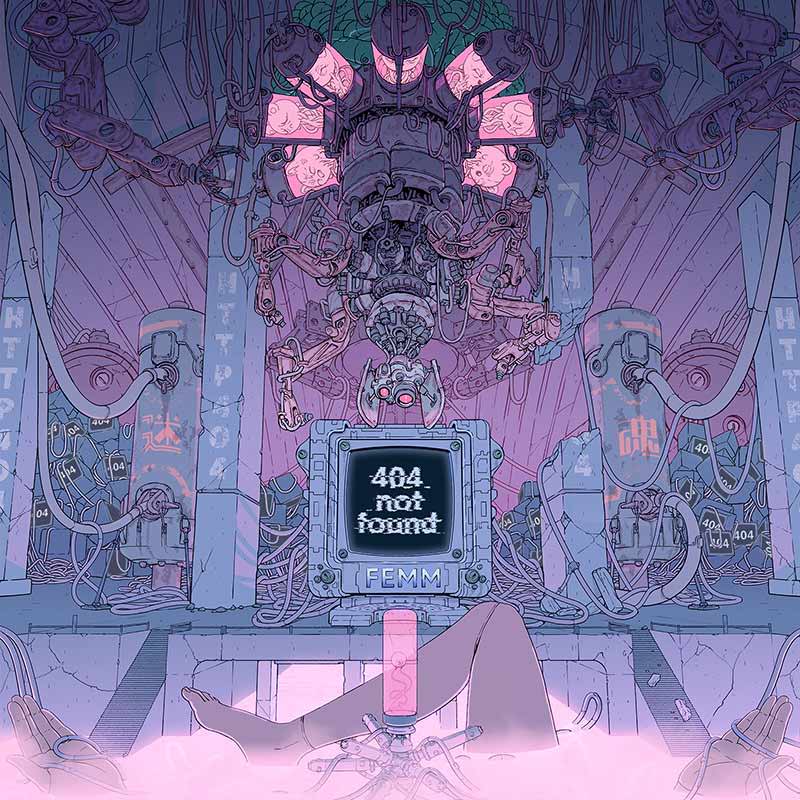 Sit Down

(producer: HABANERO POSSE)

Bury Me

(with all my $$) (producer: ANJULIECAT)

Peach

(producer: Danny L Harle / Radical Hardcore Clique)

Play By The Rules

(producer: Diana Chiaki)

Boss

(producer: KM)

Level Up feat. Duke of Harajuku

(producer: Star Boy / Loesoe / Radical Hardcore Clique)
---
Great Japanese Electronic Music
---