Japanese Metal, Jazz and Funk Musicians Join Forces for KARI BAND's Epic 2CD Prog-Rock Live Album
Samurai grooves, ninja funk and un-programmable notes – Japan's KARI-BAND set three of their epic prog-rock livestream sessions to disc with 2CD live album with Friends. -Live at Streaming-, out from 30 April 2021 from London's JPU Records. It features a number of prominent Japanese metal, jazz and funk musicians who join forces as special guests.
KARI-BAND was originally formed by three Japanese session musicians, all of whom are probably best known international as the live band members of global phenomenon BABYMETAL. The project formed as a way for the three musicians to express and push the limits of their musical abilities, most notable in the genres of jazz, prog and funk. In January 2018 its guitarist Mikio Fujioka suddenly passed away. A year later the remaining members, BOH on bass and Yuya Maeta on drums, restarted the project and drafted in friends and students of Mikio Fujioka to be guests on their second EP. Now these students, friends and musicians record tracks from both EPs live for the first time, plus an array of extra tracks.
KARI BAND English Video Comment
"I never get tired listening to this live album that we've ended up creating," states BOH. "The guest musicians all bring something extra that Yuya and I could never accomplish on our own, and all these personal touches and essences mix together for the final result – this is the KARI BAND way".
"We were laughing the whole way through," adds Yuya. "Whenever the livestream cameraman came near we'd give each other the biggest of grins. We had a lot of fun recording this. We hope you have as much fun listening to it, too".
Joining BOH and Yuya on the album are;
Takashi Masuzaki (guitar) – one half of Japanese instrumental band DIMENSION, who have released 31 original albums since 1992.
Tatsuya Nishiwaki (Keyboard and harmonica) – made his artistic debut in 1987 as part of the music unit Pazz under Sony Records, and is since involved in live music, composing, production and sound design for numerous artists and projects. He supported the Japan tours of American rock band EXTREME as a keyboard player in 2012 and 2016.
Yucco Miller (saxophone) – a pupil of Eric Marienthal from Chick Corea Elektric Band, Yucco has played sax with Candy Dulfer, Glenn Miller Orchestra and Eric Marienthal. She released her debut solo album in 2016 and plays jazz, rock and funk.
Satoshi Oka (guitar) – won GIT MASTERS and Guitar Magazine Championship awards in the same year while still attending school. He was also a pupil of Mikio Fujioka. He has been a session musician and live support for several artists and released his first solo work Zephyr last year.
KARI BAND – with Friends.-Live at Streaming- Tracklist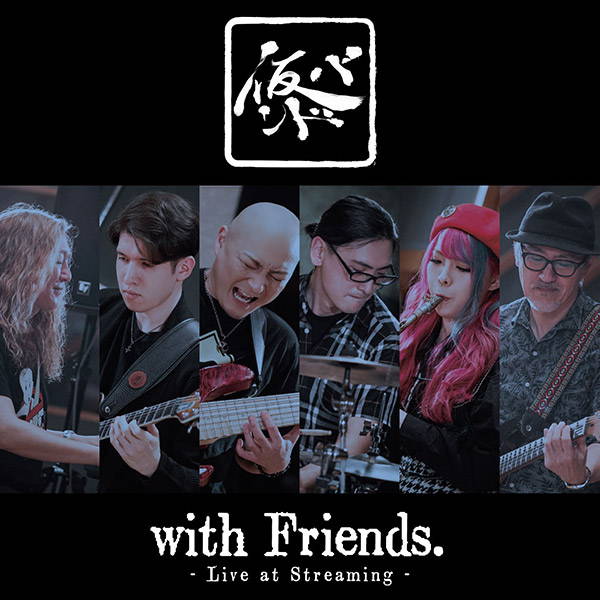 DISC ONE: (8 November 2020 Livestream)
Samurai Groove

(written by KARI BAND)

Pleasure

(Originally performed and written by Takashi Masuzaki)

Song of my heart

(Originally performed by DIMENSION, written by Kazuki Katsuta)

Dancing Baloney

(written by KARI BAND)

Jamrika

(written by KARI BAND)
DISC TWO: (20 June, 23 August, 8 November 2020 Livestreams)
U-yeah!!!!

(written by KARI BAND and Tatsuya Nishiwaki)

Chuku

(written by KARI BAND)

Shinjuku

(Originally performed and written by Satoshi Oka)

Hungarian Amburance

(Originally performed and written by Tatsuya Nishiwaki)

IMPRESSIONS

(Originally performed and written by DIMENSION)

Snowflakes

(written by KARI BAND)

Common time's logic

(written by KARI BAND)

Hair Style

(Originally performed and written by Yucco Miller)

Clock Up

(Originally performed and written by Satoshi Oka)

Ai no Jyuryoku

(Originally performed by Megumi Nakajima, written by Tatsuya Nishiwaki)
KARI BAND's EPs Kari Ongen - Demo - and Nimaime are available to download and stream now, each link also contains comments from KARI BAND's for each track.
---
Like Cool Stuff From Japan? You'll Love These:
---